Knitting and ears
12.14.2004
Just got back from the drs. office. I have an ear infection. Nothing unusual for me. The weirdest part was that he spent more time talking about my hypoglycemia than the ear infection! Why do drs. have to be so weird? At least I got to work on the diagonal scarf a bit while I waited.
Last night I decided to start the sleeves for the Quick cable sweater just to see how much yarn I would need. After one skein I had this: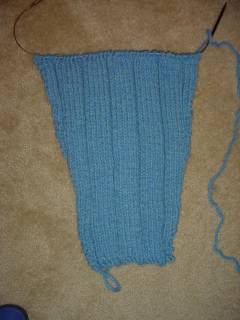 And it's three inches too short. So the binding off of the shoulders became absolutely necessary and I'm too impatient to wait for blocking so I just did it anyway. While it was a bit complicated and cumbersome, the three needle bindoff makes a nice looking seam. Here is the wrong side:
And here's the right side:
The stitches look a little twisted but I think it worked out pretty well. I put it on and the shoulders don't feel weird or anything. Of course without the side seams done or anything it's pretty hard to tell how it will really feel. At least it looks as though it might actually fit!
I need to start thinking about yarn for Mariah since I'll probably need to get started early what with school starting on the 24th of January and the conference I have to go to in Feb. and all. The patons seems nice but I think I might want something that I can wash more easily (translation: throw in the washer without thinking about it). I'm thinking it would be nice to branch out from Woolease but I'm not sure what else to use that wouldn't be prohibitively expensive. Guess I'll have to ponder that more this week.