Baby it's cold outside!
1.27.2005
Ok. When I got up this morning, it was 5. It's now 9. I'm done. You can turn it off now! For your viewing pleasure, here is what I look like when I leave the house these days: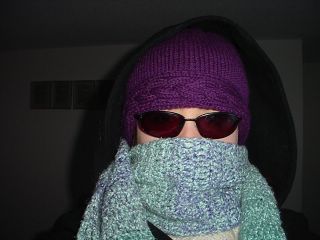 Kind of like Darth Vader without the plastic helmet! Please note that Coronet and my Morehouse scarf are being well used with the assistance of a little Lion Homespun scarf that I made several years ago so I can breathe. Isn't winter wonderful...NOT?!
On to better things. I managed to finish the right front of Dusty the other night and I've started on the other front part.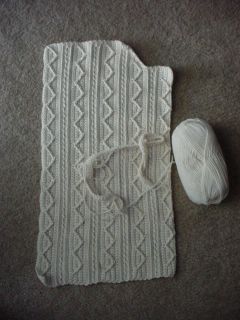 You'll notice that there isn't much progress on the other front part. Here's why: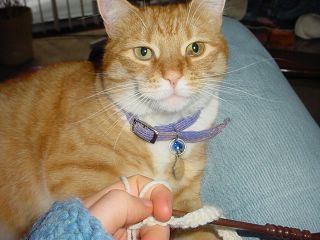 I have begun to now realize why I never seem to get as much done as I think I should. It's rather difficult when something warm and fuzzy wants to sit on your lap and you are freezing anyway so you just can't make it go away. This all wouldn't be so bad except for the fact that said fuzzy and warm thing also wants to play with/eat your yarn and/or hook/needles! Not exactly conducive to accomplishing anything.
Simba did get quite a bit of entertainment last night though thanks to my friend Karen loaning me her ball winder and swift to get my Morehouse laceweight in order. See:
I really need a professional photographer on staff here at Zarzuela Knits and Crochets because I was not fast enough to get the pic of when she decided to try and climb IN the swift. No joke. And I predicted it. Does a mother know her kid or what?! Let's just say I did manage to avert disaster and both the swift and the yarn are all very happy and cozy now.
In other news, my toe up socks haven't been going anywhere fast lately: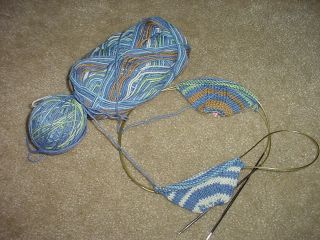 I'm done with the increases and I'm working on the foot now but I just haven't worked on them much. I hope to remedy that tonight sometime. I think the thing that's getting in the way the most is the fact that the cable on these needles is 60 inches! Definitely a bit more than I needed but they were the only size three addis I could find when I bought them.
And to leave you with another bit of fun, check out
this blog
where you can find more support for your yarn habit.
I'm now off to figure out how many layers I can actually wear and still be able to move...