I'm a bad blogger
1.18.2005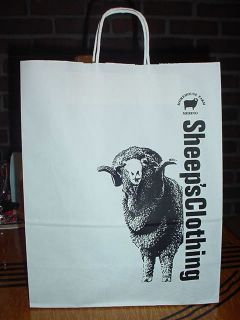 That inquisitive little sheep can only mean one thing,
ROAD TRIP!
So yesterday since four of us from our SnB group had the day off we decided to take a trip to
Morehouse Farm's
Sheep's Clothing store in Milan, NY. It's about a two hour drive from here and since the weather didn't get as nasty as predicted the night before we were able to go. I also happen to have grown up about 45 min. from where the store is located so it's kind of like going home for me and I know the area fairly well.
This has got to be the coolest yarn shop in the world. First of all, it's big! You can actually walk without tripping over stuff or knocking something over which always seems to be a problem for me. They have a great display of their yarns in just about every color you can think of and they have lots of samples knit up and displayed all over the store for inspiration. Their yarns are so soft they are just amazing. You almost wouldn't know it was wool. I did
this scarf
after I went their the first time and I absolutely love it. Not only was the pattern great but I don't mind the yarn around my neck (I'm slightly allergic to wool. The really scratchy stuff makes me nuts but this stuff doesn't bother me a bit.)
Speaking of that scarf, I love their kits. They have lots of original patterns which they package up with all the yarn you need to make them. If you can't find a kit with the colors you want, you can build the kit yourself. If you go to the store and don't mind working with it, you can also use skeins that have breaks in them and they knock off a couple of dollars a skein because of the "defect".
I went in thinking that I would get some sort of hat kit. I really liked
this
one, but I was also thinking about
this one
and the matching
mittens
. Unfortunately, the samples proved that the hats wouldn't fit my big head and I also decided I'm really not a mitten person. Too hard to get out the keys and stuff.
So did I go away empty handed? Heck no!!!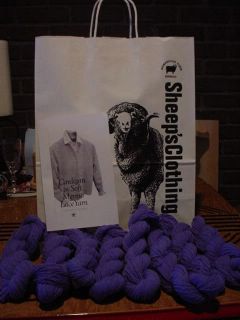 I finally decided that I wanted something in this yarn that was wearable and more significant than a hat or scarf. So there it is. Eight skeins of Morehouse Laceweight and the pattern for the
Lace Cardigan
. This is really a beautiful sweater. It's done from the top down on size 3 needles and the sample seemed light as a feather yet totally warm and cozy. I think it will be a nice sweater for all types of weather from slightly chilly to downright cold. I've never knitted anything top down either so I'm interested to see how this turns out.
Apparently I wasn't the only one that liked this pattern. Two out of the other three people in the group bought supplies for it too! You can expect a "three muskateers" pic on here when we are all finished for sure.
After a grabbed a cup of hot cider (did I mention they always have coffee, cookies and munchies there too?! This place is heaven!), we made our way across the Hudson River to
Amazing Threads
. This store is much smaller but has a nice selection of different types of yarns and a great selection of Addi turbos including the Bamboo ones. They even had a couple of spinning wheels which I always love to look at even if I have no idea how to use one. They also had a bunch of buttons which we looked at for the Lace Cardigans but none of us ended up buying any. My Mom also met us there and came out to dinner with us which was nice too.
All in all it was a great day. But I am a bad blogger. I brought the camera. Did I take any pictures? NO!! *Smacking myself on the forehead* I was obviously far too overwhelmed by all the amazing yarn to be using my brain in any other capacity.
So I am now officially on a yarn diet until March (with the noted exceptions in the post including my New Year's resolutions). I think I have plenty to keep me busy for quite a while. Now I need to get my toe up socks off the needles so I can start the Morehouse Cardi!