I'm a bad KALer
1.10.2005
I'm a bad knitalonger. I admit it. I started early. I just couldn't help myself. There was all that lovely yarn just sitting there looking sad and lonely. It had even found needles to play with, just needed someone to work them. And the pattern! The pattern was all ready, polished up and waiting. What's a girl to do?!
So I did it. I started Mariah. Here's what she looks like so far:
(Can I just say this color is a bitch to photograph!) Not too impressive I'll admit. But it's just a start. The top part is the left hand side of the front. The bottom two parts are the sleeves. I decided to do both sleeves at once because I
am insane
wanted to make sure they were both done exactly the same.
I started the sleeves one night, I think it was friday, and got the bottom ribbing done. Then saturday between rehearsal and the concert I went to Panera, parked myself in the cushy chair by the fireplace and spent about two and a half hours doing the next four rows of the chart.
Yeah. Scary.
Granted I screwed up more than once and had to "tink" but that's still over 30 min. a row.
Be afraid. Be very afraid.
The best part, I wasn't the slightest bit bored! This is a problem for me. I'm an instant gratification type when it comes to knitting and crocheting and it seems that I may just overcome this little character flaw with this pattern. But that's still a lot of time for a couple of rows.
So in order to preserve what little sanity I have left, I decided to start one of the front pieces. My reasoning is that there are only five inches of the easy cable pattern on the front and after that it is basic stockinette and some shaping. When my visit to "sleeve island" gets to be too much I figure I can take a vacation and go to the mindless part and still feel like I'm accomplishing something.
Here's a closeup of one of the sleeves so far:
See the little cables at the bottom? I learned how to do them without a cable needle! Someone on the KAL posted this
link
which has a great tutorial of how to do cable stitching without a cable needle. I must admit, the part where you take the stitches off the needle is a bit scary, especially with my current "splitty" yarn, but it really works and is a lot easier to do. I'll admit though, once I got into the big knotwork pattern I went back to the cable needle just because my poor little brain could not handle the chart AND the no cable needle deal at once. We must not short circuit the brain. It is still needed for at least another semester.
Check out the cute stitch markers Sami gave me!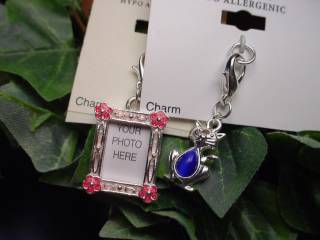 I just love the kitty with the blue tummy! My friend knows me so well. :)
And now...
The Dilemma of the Week
And now I need your help on my latest dilemma. Here's the deal. I am also a bad SnB member in that I still do not own either book! I attempted to remedy this last night by ordering them both from Amazon but I ran into a bit of a problem. I have a $30 gift card that I want to use. The SnB books come to $19.33. Then amazon tells me "Wait! Add $5.67 to your order to qualify for Free Super Saver Shipping". That sounds like a good idea to me. Why pay shipping when you can get another book right?
So this is were you come in. I have a lot of crochet books and not too many knitting books. That's just the way my crafting life has gone. So I need suggestions.
What knitting book should I not be living without and can I get that will be more than $5.67 but make my total less than or equal to $30?
Please don't think I'm some evil math teacher from your past trying to trick you into using your highly developed calculus skills. I just really want to know what knitting book I've been living without that will change my life when I find it. Please leave a comment to let me know. Thanks!