Still recovering
1.04.2005
Happy New Year everyone!
I can hardly believe it's been almost two weeks since my last post. Several people around blogland have been talking about the "time warp" phenomenon and I believe I am also a victim. I have no idea where the last week and a half have gone so fast! So I'll warn you now, this post is bound to be long so I hope you have a comfy chair and can sit back and read for a while!
I definitely had a nice Christmas. Christmas Eve was spent at my dad's boss's house where we ended up staying out until 1:30am! Not normal for my parent's or even for me in most cases, but we must have been enjoying ourselves. We finally all crawled out of bed around 10am on Christmas day and opened presents. Buster and Simba even managed to stay in the same room for five min. without killing each other while they opened their gifts from Santa. Buster even had a little fun with his: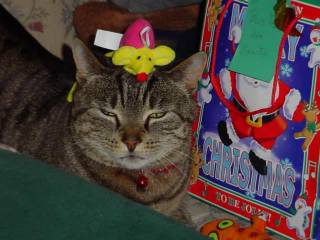 Ok. So you can't really tell from the look on his face, but he wasn't biting anyone so I take that as a sign of happiness.
Simba went nutty over a little mouse on a cord attached to a stick. I think this is her favorite kind of toy. She also even managed to feign some interest in the present from her Mommy, Grandma and Grandpa:
We had to add a pinch of catnip to really get her interested but she does actually play with it. It was either that or the threat that I would give it to my friend Sami to play with if she didn't, one of the two.
Dad finally got his socks and they even fit!! :) Check it out!!
I can't tell you how happy I am about that! My first pair of socks and they actually fit a human being!
*doing the Happy Dance*
We even managed to get my mom a present she actually liked, a DVD recorder with tape deck. She can now safely preserve the videos of me riding my horse from my teenage years. I was very proud of myself for managing to hook it up for her and get it working all by myself no less! Of course we haven't actually done any recording from tape to DVD yet but as usual, we ran out of time while I was home.
Santa was very good to me too. Among many other things I got the
sock knitting book
that I've been wanting and this
bread machine
! The bread maker is so kick ass! Not only does it do bread (and can handle heavy whole grain breads) but it can also make cakes, jam, doughs and meatloaf (which it will never do while in my possession. BLICK!). I was so excited I even had to bust it out Christmas day and make a loaf. It came out pretty well but we didn't have the bread flour it called for so once we got that it worked much better. If you've never had one and like fresh bread or are like me and are sick of paying $5 for an itty bitty loaf of something you can actually eat, I highly recommend making the investment.
The day after Christmas was spent making the trek to Long Island to visit the relatives. I also got to meet up with a friend who moved to Pittsburgh this past summer. The only really bad thing was that by the time we got out of the mall it was snowing like crazy and only 31 degrees. Can you say ice skating rink?! I'm not too happy driving down there under normal conditions but that was
really
not fun. By the time I got back to my aunt's house I was shaking like a leaf and trying to get my folks to stay the night. We, of course, went home and managed to arrive safely but I think I have a few more grey hairs (just what I need). I lived near Buffalo for four years, so I'm not afraid of snow, but this was not my type of snow.
While I was home I did manage (with Mom's help) to finish edging all the squares for the two HMB ghans I'm working on. Simba had to help of course.
After that time seemed to fly by and before I knew it I was back in CT. New Year's Eve involved a trip to
Webs
with Karen and Sami (which I think I will save the details of for tomorrow), a bachelorette party for my friend from High School, and coming back to my place to knit in the New Year with Karen and Sami. We stayed up way too late, I drank too much, but hey, we had fresh cinnamon raisin bread in the morning! :) We spent most of the rest of New Year's Day, knitting, chatting and generally hanging out. I even managed not to subject them to too much football.
I didn't really get as much knitting and crocheting done as I would have liked. I managed to finish
coronet
on Christmas:
Sorry the pic is so dark, but you get the idea. It's nice and warm and fits pretty well. I just have to manage not to felt it in the wash. Of course ever since I finished it we've only really had one cold day and the rest of the time it's been in the 40s and 50s!!
I've made some good progress on my beaded socks too:
Only about another inch to go and I can start decreasing for the toes. I'm dying to get started on Mariah but I'm not going to let myself until these and the HMB ghans are DONE!
I also managed to put a few more rows on the Dusty Miller in:
Not very exciting but this one is a bit slow going.
There has been little progress on any of these projects in the last two days. Sunday my friend from High School got married. I'd never been to a Jewish wedding before and I have to say, it was so beautiful it almost makes me want to convert...except for that whole problem I have with organized religion to begin with. Of course, being the sap I am, she didn't even get down the aisle and I was bawling. I have a hard enough time not crying when I'm playing a wedding for people I don't know. This was just too much. Besides, she has now destroyed my "I'm not old enough to get married" excuse, being two months younger than me. Childhood is officially over. What a blow to the brain.
And yesterday, it was back to work. Not just work, but rehearsals too. No slow break in for this working girl. And I'm working all weekend too.
When's the next day off???