I am a fashion faux pax
2.08.2005
In response to yesterday's comments:
Lauren
: The shrinky-dink stuff can all be found at Michael's. But a little warning, one package of 6 sheets of shrinky stuff was $10!
Lolly
: The conference is for the
Music Library Association
and I would LOVE you to come with me! Then when it gets boring I could have someone to sneak off and knit with.
:)
This morning, I feel like a barbie doll. Not a good thing. I have been trying on clothes like a mad woman trying to find stuff to wear to the conference. Ick. I am unfortunately one of those people who hates clothes most of the time because nothing fits and/or stuff that does fit makes me look like I'm ready for retirement (in more ways than one). I basically have enough outfits but one more couldn't hurt. Here's where I need your
H-E-L-P
!!!!
I'd like to wear this dress:

(
Eklectica
...I'm borrowing a page from your book on self photography.
;)
) But as you can see from the lack of sleeves I could definitely use something to go over it. So I thought about the open fan cardi. This is what it looks like so far: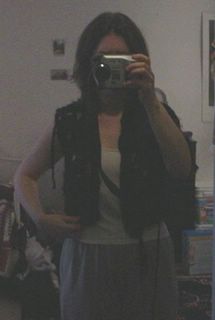 A little short if you ask me. I'm doing it in Woolease Thick and Quick and making the biggest size (which is supposed to be something like up to a 46" bust but um...I don't think so!) and it is supposed to hit just above the hips but this seems a little more than that. Here's the back: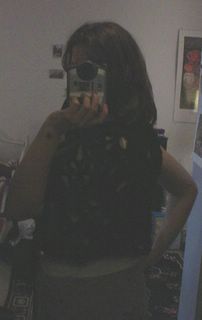 (Thank god for yoga or that shot wouldn't have happened!) Hard to tell in the pic (which are all pretty crappy but were the best I could do) but if it seems to be in the right place in the front it's higher in the back. Not so good no?
Here's what I'm thinking of doing... frogging back to the end of the body, adding another repeat of the fan pattern, then continuing on as it would have been before. That will give me a little more length in the body but leave the rest the same. Yes, no?!
Also, black on black...good idea? I'm thinking not. But the yarn isn't on sale anymore and I really can't just go out and spend the cash on enough to make one in another color. Times like this I really wish I had made a shawl in recent memory. I do have three skeins of Amore in red somewhere. Anyone got a great pattern, knit or crocheted, for a super fast shawl or shrug or something that would work with this dress??
I may loose my mind before the plane takes off...