Do good
3.24.2005
So if you ever look at my sidebar under "Works in Progress" you have probably noticed that I have an afghan for HMB from December that I haven't finished yet.
*Hangs head in shame*
I seem to have been on a "me, me, me!" kick lately with Dusty and Mariah and such going. However, I started working on a square this morning for HMB. Apparently, a friend of my family who's baby was born prematurely this month has died.
:(
My mom (who finally joined HMB since I've been to busy to send her squares for her
*hanging my head in shame again*
) requested a ghan for them and asked me to make a square. I've decided to use the
Ad Astra
pattern from the
HMB
website for this square. I hope it brings the family some small measure of comfort. While I never plan on having kids myself, I can only begin to imagine how heartbroken they must be.
Here's my finished square: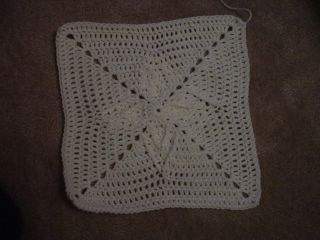 So while I'm on the topic of one of my favorite charities (and since my guilt and not having done squat for them lately is obviously getting to me), I wanted to tell you about the great new e-book they just released! It's called
Heartmade Squares
and the patterns are just fabulous! You can see pics of the included square patterns
here
. It includes patterns and a joining method from blogland's own
Crochet Dude
, who is a fabulously talented artist and all around great dude. The book includes enough patterns to make a sampler afghan plus a way to put it all together and it's only $8.00! How can you beat that?! Best of all, the proceeds all go toward helping this wonderful organization accomplish their mission. It's available in eBook, PDF, or CD format.

So if you crochet or know someone who does, go get a copy! Do good!




I also did something a little fun today. I got tired of trying to knit my clapper with a cut up straw as stitch markers. Here's what that looked like: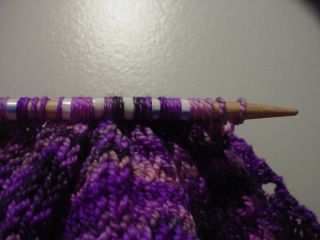 So I went to Michael's on the way home from work, and thanks to
this little tutorial
I came up with these: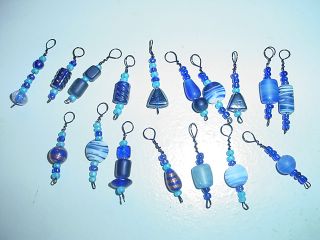 They were so easy to make! It only took about an hour and a half to do what you see here. I got lots of complements on them at SnB tonight. The only drawback so far was that they seem to add a lot of weight to the knitting. I made some lighter ones when I got home tonight and I will substitute them for some of these and use some of these for other projects. Total cost was about $10 and I had some gift cards so it was actually less than that.
:)

Time for bed. I'm off to the Fabric Place tomorrow to burn that $5 off coupon!