Doesn't THAT just rot your socks?!?!
3.14.2005
No more living out of a suitcase for me. After about 4 weeks of being a wandering minstrel I am finally back in CT and saying here for more than a day and a half. While this makes me happy for the sake of the mileage on my car, it makes me rather unhappy for the condition of the apartment in which I will be residing. Just imagine what happens when you walk in the door, drop your stuff and have to turn around and leave again over the course of four weeks. Let's just say I won't be having a dinner party any time soon (not that I ever have dinner parties but that isn't the point). But the best part of being back this time is this...
(Edit: Refer to picture posted above here because blogger is being a bloody pain in the ASS and won't let me change where the pic is this morning!!)
Yup. My baby is back home with me. She stayed with her grandparents for the last four weeks while I was traipsing all over North America. I think she is quite happy to be back in her own apartment without having to wonder if her uncle Buster is going to jump out at her (and frankly I'm not too upset about not having to listen for the two cats trying to kill each other).
Of course just because I'm back in my humble abode does not mean that life is at all calm. Oh no. That would be too easy. Today I work at the library, tomorrow I have another job interview, Wednesday through Saturday I have rehearsals for a concert Saturday night and next week I have a major project due for my class. Ugh. No rest for the weary here. I think Easter weekend I may just collapse for the sheer fun of it. I owe myself that much don't I?
Anyway, the gig went well. We managed to finish getting all the recording done that had to be done an hour early on Friday. It also managed NOT to snow like a banshee as predicted so that made it all the better. I stayed in NY on Saturday though because it did snow Friday night and I wasn't taking any chances. The only bad part was they didn't have my check for me, but it will be in the mail soon.
I also got old for the 27th time last Thursday. I managed to have a good day despite working. Mom and Dad took me out to dinner when I got home and I totally stuffed myself on good food. They also gave me flowers and a new toy...
The swift is coming. For some reason shipping a swift and ball winder together in one box never occurred to these people. Whatever.
And I bet you are all wondering about Dusty...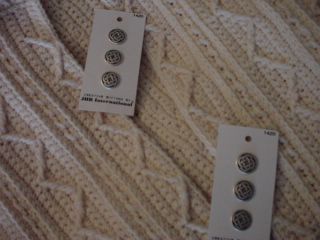 She just needs her button bands crocheted and the buttons sewed on. And why did I stop here you ask? Because I
RAN OUT OF YARN
!!
>:(
Another hour of work and I could have been wearing this thing today, but can I? Heck no! Grr... I was not a happy camper. But I managed to get the yarn while running errands last night when I got back and with a 40% off coupon at Michael's. Hopefully I will find the time to finish her by the end of the week.
Mariah is coming along well too but not enough to warrant yet another sleeve picture. I've got about another 1.5 inches to go on the sleeves and a good chunk of the back and I'll be ready for yoking. Of course you will all be the first to know when that actually happens.
For now it's time to get cracking on all the schoolwork I've been neglecting. I think I need to start a countdown to graduation... actually... I think that would give me a panic attack. Let's not do that ok?