Spending birthday money
3.26.2005
Boy did I have a nice day yesterday! In the morning I did boring stuff (like getting an oil change) but the afternoon and evening were very nice indeed.
First
Eklectica
came over to my place with samples of some of the new
Knit Picks
yarns for me to pet. I really wanted to see some of them in person because it is just so hard to tell from the website exactly what you are getting (by the way, I just went to the site and they seem to have some new stuff! Woo hoo!). She brought some Elegance, shimmer and something else that I can't seem to remember at the moment. They were all so soft and nice! The color variations in the shimmer were really cool too. There are some things you just can't see online. I think I've finally made up my mind that I'm going to use
Elegance
for
"A good bias"
. I also just joined the knitalong for this project
here
. I need to finish some other stuff before I get the yarn and start this one though.
Then we went on our trip to the
Fabric Place
to burn the $5 off coupons we had. This is definitely not a challenge at this store. You have to buy $25 worth of stuff to use it, but that also isn't hard. This place is totally my favorite LYS (even if it is about a 20 mile drive one way). Thursday I called to find out if they had a size 9 addi turbo in stock that was longer than 24 inches. The clapper just hasn't been a nice knit without one.
"Hello, my name is Jessica and I am an Addi Addict."
"Hello Jessica."
*ahem* Anyway, they had one! I was very happy but very skeptical that it would be there the following day much less that they might hold it for me. I asked anyway and they did! And they were so nice about it! It was so cool. Talk about service! That definitely gives them two thumbs up in my book. Even better, it was actually there when I got there. Another definite plus! Perhaps I am just a synical former NY'er but this is very impressive to me. So here's what I ended up getting:
Two skeins of Cascade 220 and my addi turbo. Nice huh?
Now I know what you are saying. "
Holy cow, she's lost it now for sure. There is one skein in this pic and an empty addi bag
!"
Fear not dear reader. While I am pretty looney these days I haven't lost it quite that much yet. The addi went directly into my clapper because I just couldn't wait. As for the other skein of 220, here it is: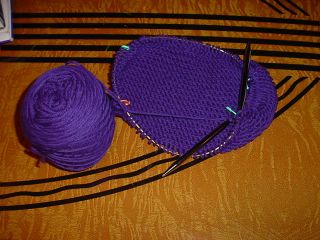 You see the other great part about yesterday was that I had a spontaneous knitting date with my SnB buddy Sami! We had chinese food and then went to Starbucks to
be deafened by the loud music
knit the night away! And through some serious peer pressure (NOT!) we both started
Sophie
bags! Doesn't look like much in the pic, but hopefully it will become something much more interesting sometime soon. Yeah, I didn't really need to start something else, but what the heck. The bag is cute and I need some instant gratification in my life. I can totally understand why this yarn is so popular now too. It's feels really nice and is easy to work with. I'm using size 11 needles since I don't have 10.5s (I knew I should have bought another Addi while I was at the Fabric Place!) and it is producing a pretty loose fabric. I figure I'll just have to really felt the hell out of it in the end. Thank goodness felting is so forgiving. We'll see what happens.
And now dear readers I must prepare to flee the state of CT. It is Easter weekend afterall and if I don't get out of my pj's soon I'll never make it back to NY today. Have a great weekend everyone!