I'm related to an April Fool
4.01.2005
First things first: If you are feeling charitable today (and this really isn't hard to do so get off your can and do it) go over to
this blog
and leave a comment to raise money for Breast Cancer.
Second first thing: Look who left the 5th comment on the last post! *Jumping up and down like a kid that just saw their favorite rock star* My blog has been graced by a book authoring
celebrity
!
On to the other stuff:
What's this we have here?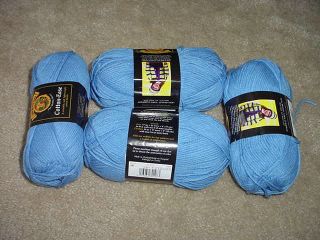 Oh, yeah, that. That would be MORE YARN!! Hehehe... After work yesterday I made a little side trip to the local Joann's (which has definitely expanded their yarn selection. Thanks for the tip
Eklectika
!) with some coupons and *she who does not have a blog and should get one* ::cough, wink:: [otherwise known as SnB buddy Sami] only to have *she who does not have a blog and should get one* be smart enough to actually read the coupons and discover that they were not good until April 7th. Now honestly, why the heck do you e-mail coupons to potential customers and make them wait a week to go out a use them? Do you like torture? Do you have any idea what people like us are like? The coupon is an excuse to go shopping and must be used as soon as it gets into our hot little hands. What do you people not get about that? Obviously the people that handle these things are either a) not crafters or b) of a gender that does not have the shopping gene.
Obviously you can tell that this didn't stop us however. My wallet thinks I shouldn't go "browsing" with friends anymore...but I told it to shut up. So my color is Candy Blue and *she who does not have a blog* got Blueberry. What are we making?
Tempting
! We were inspired by
Lauren
to go with the cotton ease for another (hopefully) quick knit.
Nevermind I have an only partially yoked Mariah staring at me at the moment and several other projects calling from another room. Yeah, nevermind that.
And nevermind the fact that I now must spend hours of my life developing a website for my graduation portfolio and must ignore those calling projects. But at least I know there will be some fun this evening...but I'll tell you about that tomorrow.
And if you think April Fool's sucks, just remember, it could be someone's birthday.
Happy 82nd Grandpa, wherever you are.