Thank you!
4.22.2005
Thank you all so much for the comments on Tempting in my last post. You all are so sweet to offer so much wonderful advice for my dilemma and I honestly feel so much better about this project now! I think I've decided to wear it once, wash it and see how I feel about it after. If the length bothers me, I'll fix it then. And now I know
HOW
to fix it thanks to all of you! I think if I was going to do that, I would take
Jodi
's suggestion and unravel from the bottom and bind off again. Seems like this would be the easiest thing to do. And so I wouldn't loose the stretch of the tubular cast-on I might try the Kitchener bind-off found in the
Knitter's Book of Finishing Techniques
. Has anyone ever tried this bind-off before? It's supposed to be complementary to the tubular cast-on, but I'm wondering if it would work with 2x2 rib? If I get to that point, I may give it a try with a swatch first to see if it will work out ok.
Also, in case you didn't see,
Holly
left fabulous bow tying instructions in the comments (which I'm hoping she doesn't mind me reprinting here):
"The best thing my father ever taught me was how to tie a bow. Bow tying 101: Starting with two loose strings to make the first knot, right over left, under and through. Make a loop with the right string, bring the left over the top and under to create another loop. Pull tight. This works anytime you want a straight bow. If you want it crooked, start with left over right."
I gave it a try this morning and my bow looks awesome. Thanks for getting me through Bow tying 101! :)
As is normal for me, it wasn't long after Tempting vacated the needles that I had to start something else. Here's the beginnings of "A Good Bias":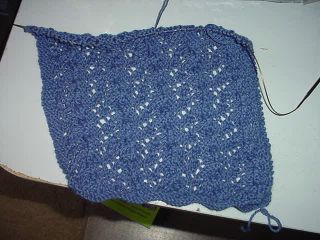 The pattern is from this year's Spring IK. I just couldn't resist it for some reason. I've never owned a shrug and therefore have no idea if I will like wearing one, but you have to have one to know that right?! I'm making it with Knit Pick's "Elegance" yarn in Cornflower. It's a baby alpaca, silk blend and I'm really loving working with it. Not too splity, nice and soft and generally cooperative. The only real problem I'm having is that I apparently cannot count to 10 on a consistent basis. I usually say, "I'm a musician. I can only count to four." and it is so true. I started this at SnB the other night and had to rip it and start again. I frequently get to the end of the row and have to frog back too, but I'm not too annoyed as yet and my record seems to be improving. And I didn't think this was lace knitting, but I'm apparently wrong according to my SnB buddies, so yippee, I'm knitting my first lace project!
One other thing from the comments. I too am not a happy camper about the apparent discontinuation of LB Cotton Ease. I am therefore embarking on an expedition to find copious amounts of it around the southern CT area today with
Sami
. Wish us luck!
I should also have big news tomorrow...stay tuned.