Unhappy kitty...
4.04.2005
Just a quick post to let you all know I'm back to CT and catch up on a couple of things.
First, I made it back by one of the only routes out of Ulster Co. NY right now. Things are not good at all and all the schools and most of the major roads are still closed. You can read more about it
here
. I remember flooding as a kid (hello, I mean there is a creek or stream every two seconds, we live in the Hudson River Valley after all) but nothing like this. You could see spots where the water cut along the side of the roads like a knife. Very not cool.
I also returned to a very unhappy Simba. She had tossed her extra water dish across the room, knocked over a drying rack full of clothes, and ate two holes in one of her bags of food. I can't be mad at her though. I left enough food and water for an extra day, not two. Poor kitty!
On to happier things. I haven't gotten to tell you that Friday afternoon a bunch of the New Haven SnBers got to meet
Alison
! Here's a pic: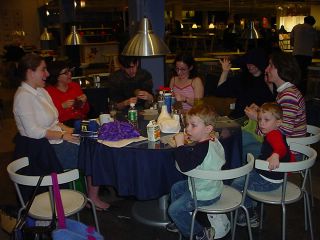 From left to right we have
Sami
(who just got a new blog!! Peer pressure works wonders. ;) Go say hi!), K.U., FHBF who belongs to
Lauren
,
Eklectica
, and Alison with her two absolutely transfixed boys (apparently Spongebob is to children what yarn shops are to me. Go fig.). It was tons of fun and I hope we get to do it again sometime soon!
I also promised a clapper pic and here it is:
Not the best pic but it will have to do for now. I wore it back to CT and plan on using it a lot. Since
Diana
asked, I used almost all of my three skeins of Koigu (which were 175 yards each). This is way less than what the pattern called for. I basically followed the pattern as written except that I knit to the end of my second skein and then started the decreases at whatever point that was. In other words, I didn't do quite as many pattern repeats. If this is clear as mud I will try to explain better when I have more time. You might also check out the end of the pattern because there are suggestions for changing the size. The other thing I would do if I did it again would be to purl the stitches that are going to be dropped. That would mean I wouldn't need a billion stitch markers and things would go a little smoother. Just a thought.
That's it for now. Lots to catch up on since I ended up in NY for an extra day and a half. Although there will be good Mariah progress to post sometime soon. Stay tuned! ;)