The yahoo and yippee heard 'round the world
4.23.2005
As it is finally official, let me get the big news that I eluded to yesterday out of the way:
I AM DONE WITH SCHOOL!!!
FOREVER!!!
If you heard delighted cries of "I'm done! I'm really done!" coming from the direction of CT yesterday, that was me! I cannot begin to explain how happy this makes me, or how it has only just begun to sink in. Yesterday I turned in my graduation portfolio and my last paper, and while I was on campus I even called the person that handles my graduation application to check its status and was informed that upon completion of my current course, I am good to go. And go I will. Screaming and jumping with the kind of delight that only comes upon completing 9, count 'em,
9
years of higher education. It's been a long road and I am quite happy to be done with it. And I refuse to let the fact that I don't yet have a job secured get me down. I am going to celebrate this, and celebrate it hard, for at least the next three weeks. I figure one week for each year I've been in library school should do, yes?
And what does one do when they have something so momentous to celebrate? Why, in my world at least, they go shopping of course!
Mission #1: Find cotton ease yarn before it all disappears.
Mission accomplished.
Don't worry,
Sami
and I didn't buy every store out. But we did take a good sampling of the goods while we could. I was really hoping to find some black, but I did find the two colors pictured above that I liked. That's 4 balls of sugarplum for a summer tank and 6 of cherry red for a longer sleeved garment yet to be determined. You also might notice that Simba is modeling a new collar (gotta spread the wealth ya know!) which I think is just darling (but I'm a typical mother in this instance).
Mission #2: Find some fun new spring/summer clothes.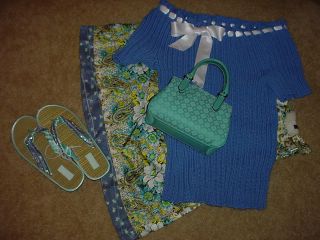 Mission accomplished
. I'm sure you all know what the top is by now. The skirt and shoes were found at Old Navy. The bag, which I just love, was found at T.J. Maxx for $20 off the original price. Not pictured was the biggest bargain of the day, a three piece suit with a short sleeve blazer and knee length skirt in a light blue color, perfect for the possible warm weather interview. Regular price $280. T.J. Maxx price $72. I think I done good.
Incidentally, depending on the weather, the above outfit may go to a Passover celebration tomorrow evening. I'm not Jewish, but some friends are, and I'm totally all about a party! Not to mention I think it will be a very cool chance to learn about someone else's customs. I'm pretty excited and it was so nice to be invited.
The big news for today, the super secret project is finished! Thank goodness I finished school yesterday because it literally took me from around noon until about 10pm tonight to finish it up! Look for the big public reveal here sometime next week.
And now I think I will go figure out what one does when they do not have school work to do on a Saturday night...