Amazing weekend!
5.02.2005
What a whirlwind weekend! My gig on Friday went well but I didn't get home until 11pm. Then I was up at 8am on Saturday to get ready to go off to the
CT Sheep and Wool festival
. SnB buddies
Sami
, K.U., A.J., R.B., and L.H. all went too. We got there are 10am only to discover that they must have had a plan when they decided to do this on this day because it was absolutely freezing! About 50 degrees, lightly raining and the wind blowing like crazy. Yuck! But being the tough girls we were we bundled up and hit the barns.
It was a fairly small festival (compared to places like Rhinebeck, at least so I've heard). There were four small barns with exhibitors and a couple small outside tents. One of the barns had the concessions as well (sorry, but there will be no lamb stew at a sheep and wool fest. for me! BLICK!). There was pretty much everything you could imagine to be had. There were several people spinning and talking about how it's done and what they do, Lots of different types of roving for sale in all sorts of colors, Some unprocessed fleeces that you could purchase and tons of different types of yarn. One person was selling wicker baskets, another was selling plants for natural dying, there were a couple of different dying demonstrations (one person in our group saw the steaming pots and was about to get a little disturbed!) including kool-aid and of course there was sheep shearing demonstrations too.
One of the coolest things was seeing
Chris
who had been to our North Haven SnB before. She raises angora bunnies and had a couple with her and was spinning for her spinning guild. She let us pick her brains about spinning and she very nicely described all the different processes from getting the fiber from the bunny until you have actual yarn in your hands. Here she is spinning some angora while we watched:
(Sorry that's such a bad pic.)
It was so nice to finally see some of this work in action. I've read a lot about spinning on different blogs, but just didn't *get* it until I saw it in person and someone explained it to me. It's definitely like magic when the actual spinning happens!
Chris also had a bunny there to demonstrate giving it a hair cut! Apparently this is done about every 3 months. Here's the bunny before:
And here's a shot while she's being clipped:
You'll notice that the bunny is on her back (see the ears under Chris' arm?!). This is to keep her calm so no one gets injured during the clipping. The scissors are quite pointy and sharp! Chris would brush the coat a little bit to get the knots out and then carefully cut off the hair, making sure to leave enough so the bunny wouldn't be too cold afterward.
And that's the after shot. Quite a difference! That one little bunny almost filled up a grocery bag
with fiber!
Chris also demonstrated how to stay warm if you couldn't knit up the yarn fast enough!
Some of the people in my group were seriously thinking of doing the same thing!
In this shot you can see the great mittens Chris makes out of felted angora. They are so warm!
There was also a sheep dog trial. We watched this guy haul ass around this field chasing these sheep. It was really something!
And I just had to take a pic of this big spinning wheel. It was huge!!
For lunch, instead of partaking of the on-site food, our group went to
Rein's deli
just a few miles
away. It's a great NY Style deli and it was really nice to get some hot food and to warm up a bit.
After that some of us went home, but the rest of us went back to finish off our shopping. Here's what I got: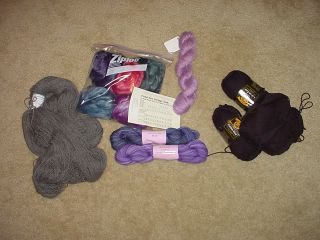 Starting at the left and going clockwise: The big pile of silver yarn is 600+ yards of Alpaca that is probably going to become a full sized
Clapotis
. The ziplock baggie has 5 - 1 oz. hanks of merino/tencel (which is apparently a plant fiber) roving that I'm going to use at least one color of for thrummed mittens. The rest might go up for sale on Ebay or something. The piece of paper was a free yarn yardage guild that the alpaca people were giving out. The lone purple skein is some angora/silk blend yarn from Chris that was made from her own bunnies. It is incredibly soft and warm and probably the most expensive thing I've ever bought but totally worth it. I'm going to make a nice feather and fan scarf out of that. The the purple and blue skeins are sock yarn. Betcha can't guess what that's for! ;)
And what is that black stuff?! Well, let's just say that on the way back we passed a certain chain store ::cough::Joann's::cough:: and someone who shall go unnamed was able to find the last 4 skeins of black Cotton Ease, three of which were dirty, but not horrifically so, and said person was able to get the three damaged skeins at 25% off. Mystery person sees a black
Tempting
in her future.
As if that wasn't enough fun for one day, most of us went home, got "de-sheeped", and went out for dinner and drinks to celebrate the end of my student life. We even had chocolate fondue for desert! It was definitely way more fun than one jobless former graduate student should humanly have in one day.
Yesterday was mainly spent in recovery but included a lovely dog-walk with R.B., a late lunch/dinner with Sami and R.B. and knitting and watching an old Ranger's game in the evening. One certainly couldn't ask for a better weekend!