Neglected blog
6.20.2005
I have been neglecting my blog. I've been back in CT for almost a week now and just haven't known what to write so I'll warn you in advance that this post may be A) boring, B) depressing or C) both.
My trip to Maryland went well but I was very happy to come back to CT. The weather down there was so hot and sticky that when I walked off the train in New Haven and it was 95 degrees it felt
cool
.
That is just not right.
So now it's back to the hurry up and wait game. My life really seems to be in a holding pattern right now. The job search is pretty much stalled as there simply isn't anything else to apply for right now. Oh there are jobs, but I'm either not qualified or not interested. For now I wait to hear from my last interview and see what happens. I'm also hoping to hear back from some of the other places I've applied soon, but I'm not holding my breath.
I'm also a bit unhappy about my living situation. I found out the day that I left for bassoon camp that I have to move no matter what happens with the job search. My apartment complex was sold to a new management company that is no longer allowing pets. I'm certainly not trading Simba in for new windows and better landscaping, so we need to find a new home. I've been in my current place about two years (which I'm said to say is a new record for me since starting college 9 years ago) and I really like it which makes it even harder to leave. Most of the other complexes in the area don't allow pets, so that is making it really difficult. I'm also feeling like I should wait to really start looking until after the beginning of July (when I should hopefully have had some job news) but I'm just not sure what to do. The biggest problem, I have way too much stuff and can't afford movers. My parents, who are more than willing to help, are pushing 60 at this point and really shouldn't be killing themselves with yet another move for me, but I can't do it all on my own. I am planning on having a yard sale to get a rid of a few things (and may even be putting up some yarn and crafty things on here, I'll be sure to let you all know!) but I still have a lot to move. I guess the good news is I don't have to be out until the end of August. That at least gives me some time.
I'm a little sad today about missing Father's Day too. I had a gig this weekend and couldn't get home because the concert was last night and I had rehearsals Friday and Saturday night. Mind you, Dad would be the first one to say "Take the Gig!", but I still hate missing these things. I guess that's part of the reason I really want to stay in this area, I can get home on weekends if I have time.
Do you ever go outside of your usual routine, and then when you get back to it you aren't sure you like it so much? That's happened to me a lot recently. I'm not sure if I need to re-evaluate or just realize that yes, life is in a holding pattern at the moment, but this too will pass. Maybe I just think too much.
For the library science crowd
In library news I have a not so funny story and a funny story:
Not so funny
- I didn't go to work on Friday because our building was threatened with a bomb scare. It shut down the whole block from 8am until I don't know when. I watched the noon news on Friday and they still weren't letting anyone near the building so I decided not to wait around. I'm sure I'll hear all about what happened today. All I do know is that nothing actually blew up and I'm quite happy about that. Two years ago, a bomb was planted at the Law School (which is just across the street) and that was not the case. No one was hurt, but it is still frightening to think about what could have happened.
Funny
- I had confirmation last week that I should not work in public services. One afternoon, an older gentleman walks into my office. I'd say he was at least 50 years old. I was the only person working in the front part of the office, but our rare book reading room is off to one side of that office and is fully visible. The man looked at me, then went into the reading room and asked a researcher if she was a librarian. When she responded no, I asked him if I could help him. To which he responded,
"Yes. Is there someone older around?"
You can imagine my shock but I passed him off to one of our para-professionals that was sitting at her desk in the back of the office and the only other person around. All the "real librarians" were at a meeting so it was just the two of us in the office. She helped him with his questions (which were certainly nothing I couldn't handle) and sent him on his way. After he left, we both started laughing. Apparently I am not old enough to know anything even though I am actually the proud owner of an MLS!! I can't possibly be a librarian because I'm under 40 and don't wear sensible shoes or put my hair in a bun!! You can imagine the jokes that ensued, especially when my boss got back and heard about the incident. He suggested I dye my hair gray or something. It just goes to show you...
this is why I want to be a cataloger!!
Actual Knitting Content
Now if you've made it this far I feel as though I should reward you with some knitting content. So here is another FO which I've spent most of my time on since returning from camp: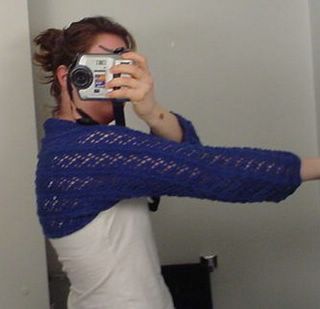 (As usual, my self photography is absolutely fabulous...NOT!)
My Unfeltable "A Good Bias" or AGB 2.0
I'm really glad I liked this pattern or I would have really hated knitting this again. While it isn't quite as nice as the alpaca silk version was, the cotton ease seems to be a good fit too. Hopefully I won't find a way to destroy this one.
You may find this hard to believe, but I currently have absolutely nothing on the needles. Shocking, yes. I do plan to remedy that later today however. Perhaps a new project will help me overcome blog neglect. Stay tuned...