A two FO night
6.09.2005
Thanks to all who have welcomed me back and congratulated me on the degree posting. It's amazing how that kind of good news can give you a serious attitude adjustment! I'm now feeling much more "back to normal" and it really isn't a bad thing.
Of course a healthy dose of SnB can also help you feel better about anything. I got that in last night and I also managed to come away with TWO finished objects! This first one is my diagonal scarf:
Details: Diagonal Scarf from leaflet 82189
Made with 2 balls Reynolds Fusion on size 9 Addis
This was my "purse project" for many moons and I finally just needed to be done with it. Although my gauge got a little wonky in spots (probably due to putting it down for so long in between sessions) I think it's fine and since it's only for me...who cares?!? Needless to say I won't be wearing it outside my air conditioned apartment any time soon thanks to the near 90 degree heat around here.
The second project I also won't be wearing for a while: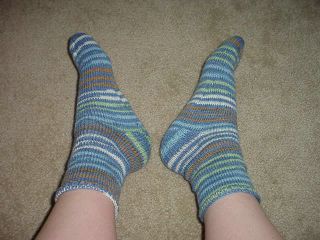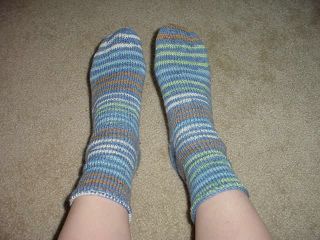 Details: Toe up socks using calculations from
Crazy Toes and Heels
Made with Lion Brand Magic Stripes on size 3 Addis
My first toe up socks! I think they came out pretty well and they fit really nicely. (And for those that notice these things, no I don't care that they don't "match". That's what variegated yarn is all about!) I'll be very happy to have them come fall.
So what's next? Well, I had planned to start an *unfeltable* shrug at camp and didn't get to it so I think I'll start that at SnB v.2 tonight. I've also realized that another friend is getting married in a little over a month so I need to get started on an afghan. I think that will have to wait until after next week's short trip to Maryland though.
And speaking of the D.C. area, I just realized this morning that during my day long stay in the Washington area on the way back from bassoon camp I was only a couple of blocks from
Knit Happens
and didn't even know it!! Perhaps the knitting/crocheting gods were upset that I didn't do much at camp? Oh well. Next time I'm in Old Town Alexandria I won't let it happen again!
One other quick note: Now that I've finally gone through all my mail a
BIG THANK YOU
to
Heidi
who was nice enough to send me some audio books when she heard I had graduated and might have some time on my hands. Thanks so much for thinking of me! I can't wait to listen to them (maybe on my train ride this weekend). And I really hope to meet you some time since you're only just up the road!
Happy Thursday everyone!
Edit: There is now a link to a proper finished pic of my booga bag in the left sidebar if you really want to see it.